Northern lights 'ruined by social media' says photographer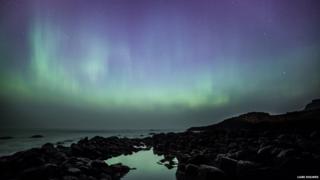 It may appear that visits by the northern lights to Northern Ireland are a new phenomenon, judging by the number of spectacular photographs being shared online.
In the latest aurora borealis light show on St Patrick's Day, people crowded around beauty spots around the coast hoping to catch a glimpse.
Social media and websites devoted to forecasting its intermittent appearances have made it easier than ever before to experience the light show close to home.
But not everyone is happy about this.
One keen local photographer took to Twitter to complain that "social media has destroyed the spectacle of the northern lights".
"North coast viewing points awash with cars and headlights coming and going," he said.
According to another photographer who was out and about on Tuesday night to see the bright lights, the secret is to avoid the crowds.
"When I go to take photos, I try to go where other people don't go," says Londonderry man Tyler Collins.
At first he went to Malin Head in County Donegal, the most northerly point on the island of Ireland, but "it was like a cattle market up there".
"Because of social media, everybody knows about it," he says.
"Luckily there was a private beach nearby that I was able to go down to, and there was nobody there but myself and my girlfriend the whole time."
Mr Collins says the images in the photographs are not like the ones you see with the naked eye.
"You see very faded whites and greens, but the camera can pick up a lot more detail like the blues and purples," he says.
"The further north you go, you can see those more vivid colours, but because we're further down it's only picked up on camera."
While he has an app on his mobile phone to alert him when the lights might appear this far south, it has been a well-kept secret until recent times.
"I've a friend who lives near Malin Head who has been seeing the northern lights since around 1995 - he knows about them because it's so dark and there's no light pollution to block it," he says.
The phenomenon is caused by eruptions on the surface of the sun, and this most recent activity has been unexpectedly strong.
This time around, far more people than usual were able to see the celestial display, due to increased solar activity that brought the lights down much further from the North Pole.
Mobile phones might be good for finding out when the lights might show up, but Mr Collins says just pointing its camera at the sky and snapping probably would not be enough to capture such spectacular images.
"You don't need a special camera, but ideally you need one that can be put it into full manual mode, and you need a tripod as well to keep it steady," he says.
"With my camera, I can adjust the sensitivity to light and take short bursts at a five-second exposure which allows me to capture more detail."
To increase the chance of seeing the aurora borealis, scientists advise viewers to sign up to an alert service and head outside at "magnetic midnight" - between 8pm and 12am in the UK - to find a dark place with no light pollution.
So the next time word begins to spread that the northern lights are coming, it might be best to stay clear of the crowds.