Teenage Kicks mural reinstated in Belfast after outcry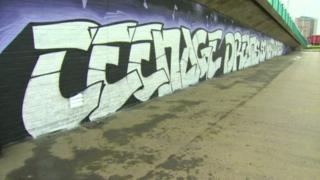 Its removal caused quite a stir but now a Belfast mural depicting a lyric from the punk anthem Teenage Kicks, by The Undertones, is back in east Belfast.
The mural first appeared in 2004 to mark the death of BBC radio host John Peel, who championed the Undertones.
It was removed by Stormont's Department of Social Development in 2013 when work began to regenerate the area.
But the replacement mural does not include John Peel's name, which formed part of the original art work.
'One Direction'
Sarah Houston from East Belfast Partnership said the new version was designed by young people from both the Short Strand and the lower Newtownards Road areas.
"On average they're around 15 years old so I'm not sure how much resonance John Peel would have with them - they're more likely to be familiar with the One Direction updated version than the original," she said.
The boy band released a cover version of Teenage Kicks in 2013, recorded as a part of a medley for a Comic Relief charity single.
'Musical history'
Music journalist and broadcaster Stuart Baillie said he was "delighted to see the mural back" but added that there would be people who grew up in the punk era who would be "a little bit sad" to see that John Peel's name has not been reinstated.
He said Peel had done so much for the fabric of Northern Ireland musical history.
Peel promoted Stiff Little Fingers and the Undertones, making Teenage Kicks a hit.