Stormont crisis: Simon Hamilton says no new money for welfare deal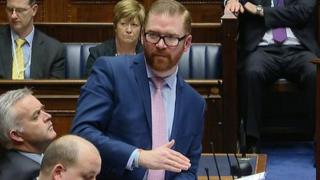 Finance Minister Simon Hamilton has said no additional money can be allocated to resolve the current impasse over welfare reform.
Talks aimed at resolving the stalemate over welfare reform legislation are expected to resume at Stormont later.
Sinn Féin withdrew its support for the bill last week.
The DUP's Mr Hamilton said any resolution would be on the basis of the £90m per year previously set aside for welfare reform mitigation measures.
"Whilst we are keen to find that resolution there will no more money spent above and beyond what we have agreed," he told the BBC's Good Morning Ulster.
"Because to spend more money above and beyond what we have agreed to find a solution to this problem means that we would have to hit health, we would have to hit education, we would have to bit other key public services.
"So yes we will work away at finding a solution and I hope that we can find a resolution and I'm hopeful that we can make progress this week, but it is on the basis that there is no more money above and beyond what we have agreed at Stormont Castle."
Sinn Féin's Conor Murphy said he was optimistic agreement could be reached.
"The mood remains hopeful and certainly our intention is to try to get this resolved this week," he said.
"There's quite a lot of complex details across a whole range of schemes that need to be worked out to ensure that there is protection for vulnerable people in society.
"That work is ongoing."
'Best interests'
The Northern Ireland parties have held several days of meetings to resolve the impasse, but no agreement has been reached yet.
Both Deputy First Minister Martin McGuinness and the First Minister Peter Robinson have confirmed they will not travel to Washington for St Patrick's Day, in order to continue with negotiations.
Mr Robinson tweeted on Sunday: "White House agree priority is to maintain momentum in finding a resolution to welfare issue. Best to be in Northern Ireland dealing with it."
In a statement, Mr McGuinness said: "Progress has been made in talks between the parties but there is still a lot of work to be done.
"I have decided therefore in the best interests of trying to move the situation forward that I will not be travelling to the US to take part in events marking St Patrick's Day."
The Northern Ireland parties had agreed a deal on Westminster's welfare reform in the Stormont House Agreement in December.
The issue had previously threatened the future of the Northern Ireland power-sharing executive.
Last week, Sinn Féin withdrew support for the bill and accused the DUP of going back on what had been agreed.
The DUP rejected this, saying there had never been the money for all the things Sinn Féin wanted and that Sinn Féin had been aware of this.