David Ford criticises parties who blocked Welfare Reform Bill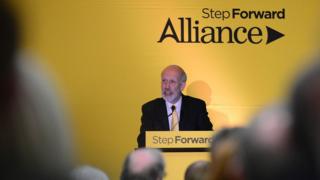 The Alliance leader David Ford has strongly criticised the Stormont parties who blocked the Welfare Reform Bill when it reached its final stage at the assembly last week.
The bill was withdrawn after Sinn Féin, the SDLP and the Greens signed what is known as a petition of concern.
It requires that any vote taken by MLAs has to have support from both unionist and nationalists.
Mr Ford accused other parties of acting out of self interest.
Speaking at the Alliance Party's annual conference, Mr Ford said: "Whoever is being more disingenuous, cynical or stupid, let me be absolutely clear where the blame will lie if this agreement falls apart over welfare reform.
"It will lie with every MLA who signed last week's petition of concern - Sinn Féin, SDLP and Green Party.
"Don't let them get away with their claims that it's all about protecting the vulnerable, because it's not. It's about protecting their own votes.
"We can't protect vulnerable people if we have to take another £200m or more out of public services to fund further adjustments to benefits.
"We can't protect the vulnerable if we have to take hundreds of millions out to pay fines to the Treasury.
"And we can't make the step change in job creation if we can't afford to reduce corporation tax."
Sinn Féin withdrew its support for welfare reform legislation earlier this week after accusing the DUP of reneging on commitments in the Stormont House Agreement to protect the most vulnerable people in society.
Mr Ford said the actions of Sinn Féin, SDLP and the Greens would "damage jobs, damage public services, and damage the most vulnerable".
In response, Sinn Féin's Máirtín Ó Muilleoir said his party "will take no lectures from an Alliance party which has nothing to offer only cuts to public services, to welfare protections and increased charges on the poor".
Mr Ford also criticised the DUP, responding to comments by its leader Peter Robinson at his party conference.
"So that's my response to Robinson's attempt to demonise Alliance as flag-lowering, parade stopping, gay marriage supporting and water charging," he said.
"As for his claims that we're holier than thou, well we're not.
"But I'll tell you something, we are more committed to transforming Northern Ireland than you are Mr Robinson, we will work harder to make our vision a reality than you Mr Robinson."
Mr Ford also expressed confidence that the party's one MP, Naomi Long, would retain her Westminster seat in May.
"Naomi has been promoting our vision and our values at the very heart of Westminster in a way that we could never do before," he told delegates.
"In serving her constituents, she works at a rate that I have never seen before. That's why the people of east Belfast elected her in 2010, and that's why I'm confident they will do so again."
In some quarters, the vote may be portrayed as a referendum on Alliance's handling of the Belfast union flag dispute in December 2012.
'Best possible arrangement'
Mr Ford strongly defended the party's position on BBC Radio Ulster's Inside Politics programme.
"The issue of the flying of the flag over Belfast City Hall was an Alliance compromise, which implemented the policy that applies in the majority of councils across the UK of flying the flag on designated days," he said.
"When you move away from the heat and the way some people behaved, or because of the way some people behaved, I think an increasing number of people have been shown in opinion polls to accept that that is the best possible arrangement."