An Post commissions stamp to mark WW1 Somme centenary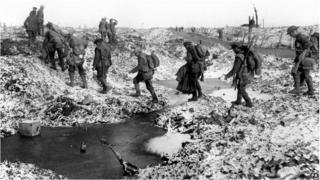 A new stamp has been commissioned in the Republic of Ireland to mark the centenary of the Battle of the Somme.
An Post, the Irish postal service, said the specially-designed stamp would be released in September 2016.
The five-month battle was one of the bloodiest of World War One.
David Hume of the Orange Order said the stamp would be "of great significance to the Protestant community, particularly in the border counties of the Republic of Ireland".
"Many members of the 36th Ulster Division from Cavan, Monaghan and Donegal were to serve in the Battle of the Somme and sadly many of them did not return home having made the supreme sacrifice on the front line," he said.
"The Battle of the Somme is one of the most significant centenaries which is taking place over the next few years, and it is important that it is commemorated at an official level, as well as by organisations such as ourselves"
An Post also released a stamp in 2006 to commemorate the 90th anniversary of the battle.
More than 19,000 British soldiers died on the first day of the battle - the British army's worst day - and 125,000 died over the next five months.
Both the 36th Ulster and 16th Irish Divisions fought in the battle between 1 July and 13 November 1916.
Three of the nine Victoria Crosses awarded on the first day of the Battle of the Somme went to members of the 36th Ulster Division.
More than 200,000 Irishmen fought on behalf of Britain in World War One and over 140,000 of those were volunteers.
The names of 49,400 Irish casualties of WW1 are listed on the Republic of Ireland's National War Memorial at Islandbridge, Dublin.