Web Summit to hold two Belfast conferences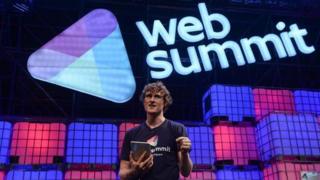 The organisers of Dublin's Web Summit are to hold two conferences in Belfast in June.
Web Summit has grown to be one of Europe's largest technology conferences, attracting more than 20,000 people in 2014.
The Belfast events, which will be held between 15 and 19 June, are called EnterConf and MoneyConf.
The T13 venue in Belfast's Titanic Quarter will host the main conference programme.
EnterConf will be focused on enterprise software, while MoneyConf will cover financial technology.
Web Summit was founded by three young Dubliners, Paddy Cosgrave, David Kelly and Daire Hickey.
The event in Dublin has been dubbed "Davos for geeks".
Its speakers have included celebrities like Bono and Eva Longoria as well as business figures like Peter Thiel and Elon Musk.
Mr Cosgrave said he was "incredibly excited to bring our first two standalone conferences to Belfast in June".
"We look forward to working with Belfast over the coming months to showcase the city to thousands of attendees from around the world and some of the world's greatest entrepreneurs," he said.
Visit Belfast chief executive Gerry Lennon said the events were "a major opportunity for Belfast".
"These conferences will bring global technology leaders to the city, generating significant mid-week, high-spend business as well as benefiting the wider regional economy," he said.
"It's our aim and mission to ensure that we bring the right business events to Belfast that not only benefit the city and generate significant tourism revenue but can also deliver in the longer term."