Smoking ban: All hospital grounds to be smoke-free from March 2016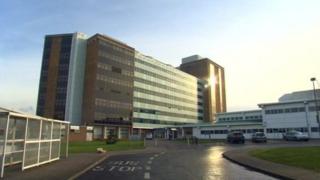 Health Minister Jim Wells has announced that smoking will not be permitted in the grounds of any hospital from March 2016.
He made the announcement on No Smoking Day.
Mr Wells said smoking was the leading cause of preventable illness and premature death in Northern Ireland, killing around 2,300 people each year.
The Western Trust implemented a smoke-free policy last year.
"I am pleased to announce that all trusts, with the exception of the Western Trust who have already implemented the smoke free measures, are working towards being completely smoke-free from March next year," he said.
"This will ensure a better quality environment for patients, staff and visitors of any health and social care facility in Northern Ireland."
Under smoke-free legislation, which was introduced in 2007, smoking is not permitted in any enclosed or substantially enclosed public or work place in Northern Ireland.
Mr Wells said while the legislation had been very successful in terms of compliance, there had been some issues raised around people smoking at the entrances to buildings, particularly hospitals.
"Approximately one third of cancer deaths could be avoided if people didn't smoke," he said.
"It is also a major risk factor for coronary heart disease, strokes and other diseases of the circulatory system and to treat smoking related illnesses in Northern Ireland is costing in the region of £164m each year.
"Health trusts need to demonstrate leadership when it comes to important issues of public health, such as smoking prevalence."
The health minister sought to reassure patients who smoked and said they would not be left to "cope alone" with their nicotine addiction.
"They will be offered assistance in the form of nicotine replacement therapy and/or behavioural support by trained stop smoking advisors," he said.
"Similar assistance will also be available to staff.
"For those staff and patients who don't smoke, it is important that we protect them from exposure to second-hand smoke when they are on HSC (Health & Social Care) trust facilities."