Alan Watts: NI start-up firms 'bypassing banks' says leading entrepreneur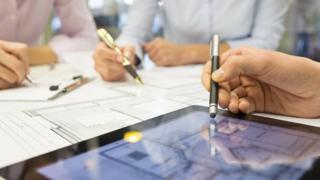 More businesses in Northern Ireland are bypassing the banks to try and find alternative ways to fund start-ups and expansion, a leading entrepreneur has said.
Alan Watts, director of the business angel network Halo, said ventures like crowd-funding were often lower risk.
Mr Watts was speaking on BBC Radio Ulster's Inside Business programme.
He told the programme that crowd-funding was a "fascinating area".
It's a fast-moving area and to put a figure on it last year in the UK it was worth £1.7bn," he said.
"4% of the UK's small business funding last year came from crowd-funding and ironically, because it's all high-tech it's old-fashioned bank lending - it's low risk.
"These are not generally lending to early-stage dodgy start-ups, they're lending to companies who've got cash flow and often profitable specific contracts."
Inside Business is on BBC Radio Ulster on Sundays at 13:30 GMT