Children's heart surgery: Formal end to NI service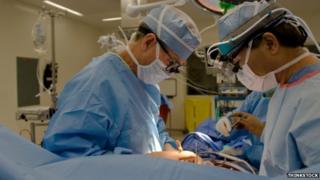 Northern Ireland's health minister has formally accepted proposals for a single, all-Ireland children's heart surgery centre, based in Dublin.
Jim Wells' final decision on the issue means the service at Belfast's Royal Victoria Hospital (RVH) will cease.
The move had been expected, following a series of expert reviews saying it was unsustainable to retain it in Belfast.
The reviews said too few operations were being performed at the RVH to meet international heart surgery standards.
Insufficient numbers
Mr Wells had already signalled his support for the proposal last October, and children from Northern Ireland have been travelling to Dublin for heart surgery for some months.
In a statement to the Northern Ireland Assembly on Tuesday, Mr Wells said: "While I fully understand the concerns expressed about the ending of surgery in Belfast, we really had to accept this given the overwhelming clinical evidence that we simply do not have sufficient numbers of patients to meet the very rigorous international standards required for the treatment of this condition."
Following a public consultation on the issue, Mr Wells has now published a cross-border document setting out guidelines for the new all-Ireland service.
Travelling distance
The guidelines set out the framework for the establishment of a single congenital heart disease network across the island of Ireland, as recommended by the International Working Group (IWG) on Congenital Cardiac Services.
The framework was agreed between Mr Wells his counterpart in the Republic of Ireland, Irish Health Minister Leo Varadkar.
Mr Wells told MLAs: "The model proposed by the IWG means that these children will have their surgery in Dublin within a reasonable travelling distance from their homes with their pre and post operative care being delivered in Belfast."
The new arrangements are to be phased in over the next 15 to 18 months.
During the transitional period, health authorities will build up extra capacity and staffing levels at Our Lady's Children's Hospital, Crumlin, County Dublin, to accommodate the demand from Northern Ireland patients.
'Upheaval'
The minister's announcement has been welcomed by the Children's Heartbeat Trust, a support group for patients and families of children with congenital heart disease.
However, its chief executive, Sarah Quinlan, said: "There is still an interim period of up to 15 months while the new all-Island structure is put in place and during that time families still face the upheaval of travelling to England for surgery.
"Ministers from Belfast and Dublin need to work to reduce that time period as much as possible. We will also be seeking assurances that when emergency surgery is required in Dublin during that interim period it will be available."