Raymond McCreesh Park: Newry Sinn Féin councillors reject fresh vote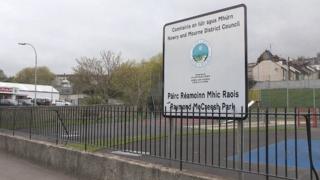 Sinn Féin councillors have rejected unionist efforts to reconsider naming a Newry play park after an IRA man.
The park is named after Raymond McCreesh, who died on hunger strike in prison in 1981. The playground was first named after him in 2001.
Last month, the council's equality committee voted by 15 to four to retain the name.
In a full council sitting on Monday, a proposal to hold a debate to reconsider the move was rejected by 15 to 14.
Council officials said standing orders would have to be suspended for the unionist motion to be discussed, but the vote meant the debate did not go ahead.
'Hurt'
Michael Carr of the nationalist SDLP said his party had voted on Monday for the fresh debate to be held.
"The naming of a public space, and especially a children's park, in this way is something which has clearly caused considerable hurt to victims and survivors as well as the broader unionist and nationalist communities," he said.
"We also recognise the hurt experienced by the McCreesh family and the pain this protracted situation will have caused them. We do not, in any way, want to add to that.
"The party politics played around these issues continues to open wounds that we should all be working to repair."
He added: "The SDLP is clear- no public space should be named after anyone involved in state or paramilitary violence."
In last month's vote, those who voted in favour of retaining the name were Sinn Féin councillors and two independent republicans.
While one SDLP councillor abstained from the vote, the other eight of his party colleagues on the council did not attend.
'Offensive'
Ulster Unionist councillor David Taylor told the meeting on Monday: "I want to remind republican representatives that this issue will not go away."
He added: "We will be exploring every avenue that we have at our disposal to ensure that we get this decision changed."
Earlier on Monday, his party colleague Tom Elliott launched a private member's bill at Stormont that proposes to ban public facilities being named after people convicted of terror offences.
UKIP councillor Henry Reilly said the park's name was "grotesquely offensive to one section of the community".
"Instead of resolving this tonight with a simple vote and doing the right thing, now we're going to bring this into the new super-council and poison that well," he said.
Sinn Féin councillor Liz Kimmins said her party's stance remained unchanged, and it was "disappointing that we have to revisit this over and over again".
"The people have spoken in 2001 when they named the park, and again in 2008 when it was investigated by the council, and yet again in 2015," she said.
"People are trying to ignore that democratic decision."
McCreesh, from Camlough in south Armagh, was one of 10 republican prisoners who died in the hunger strike in the Maze Prison in 1981.
His convictions included attempted murder, conspiracy to murder, possession of firearms with intent to endanger life and IRA membership.