NI Executive: Agreement reached on nine new Stormont department names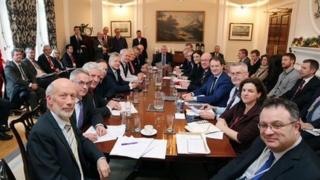 The Northern Ireland Executive has confirmed that it has unanimously agreed the names of the nine new Stormont departments which will replace the current 12 in 2016.
First Minister Peter Robinson is to make a statement to the Assembly setting out the new arrangements.
The parties committed to reducing the number of departments from 12 to nine, before the 2016 election.
The plan was drawn up by the head of the NI civil service.
Malcolm McKibbin was asked to examine the issue and draw up some options by First Minister Peter Robinson and Deputy First Minister Martin McGuinness.
The reduction in the number of departments was suggested during the Stormont House Agreement.