Belfast International Airport 'puts fun back into flying'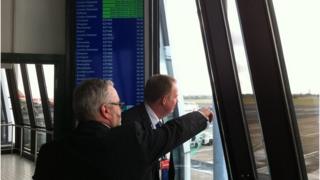 Ever since 9/11 and other terrorist attacks, increased airport security has been a burden air travellers have had to bear.
However, the people who run Belfast International Airport are taking steps to soften the image of security barriers and no-go areas.
The glass security wall separating passengers collecting their bags and those waiting to meet them, has gone.
There are now new "no back-track gates" for passengers.
The public viewing gallery that has been in mothballs for most of the past 10 years has been re-opened.
The gallery has ceiling-to-floor glass panelling and allows uninterrupted views across the airport apron and virtually the entire length of the runway.
Airports managing director Graham Keddie said it is unique.
"We believe this is the only air-side viewing gallery in the United Kingdom.
"People used to enjoy it, so we thought: 'Let's re-open it, let's use it again and let's put a bit more fun back into aviation,'" he said.
The move is part of a £4m spend on refurbishment and a re-invigoration programme at the international airport that has taken a hit in recent years with the loss of Aer Lingus to George Best Belfast City Airport.
The international still handles more than four million passengers a year, with flights to more than 70 destinations.
This summer sees the arrival of Richard Branson's Virgin Atlantic airline with a 747 jumbo jet holiday service to Florida.
It is good news for those air transport enthusiasts who plane spot for a hobby.
Lisburn sixth former Jake Lewis is a plane-spotter and a trainee pilot. He said reopening the viewing gallery was "tremendous" for spotters who usually spend their spare time standing out in all sorts of weather on the airport perimeter with rain-speckled binoculars and soggy notebooks.
"Standing outside on the airport approaches gives a good view of planes coming into land but it doesn't afford you much of a view of them taxi-ing or taking off," he said.
"The gallery reopening is a fantastic decision. It will given people the experience of what goes on from the moment an aircraft lands, taxis in and then takes off again."
Luke also appreciates the fact that they will be indoors, with toilet and refreshment facilities.
Graham Keddie said that while there may be a bit of a benefit for the airport in terms of shopping spend and parking fees, this was not the main driver for reopening the gallery.
"There are potential commercial upsides but, generally, we are doing it because it is simply a good thing to do," he said.
Rather than drive into the drop-off and pick-up zone, the hope is that people may decide to use the car parks and come into the terminal to either wave off their friends and relatives or watch them arrive from the public gallery.
Mr Keddie said it was about changing people's views.
"The increased security measures did knock some of the fun out of flying and that's a lot of people's perception of it. We've got to change that, we've got to put the fun back into airports," he said.