Maud Kells: Cookstown missionary who was shot in DR Congo back in Northern Ireland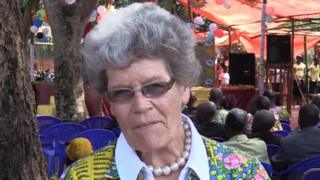 A County Tyrone missionary who was injured after being shot in the Democratic Republic of Congo (DRC) has returned to Northern Ireland.
The Mid-Ulster Mail reports that Maud Kells from Cookstown was escorted on flights by two nurses, but that there were no other special measures in place for her journey.
Ms Kells was shot twice in the shoulder by bandits at her home in Mulita in the north east of the DRC last month.
She has served in DRC since 1968.
Ms Kells received an OBE in the New Year Honours List.
She spends half of the year in DRC and the other half in Cookstown.
The Mid-Ulster Mail reports that she is not staying at her home in Cookstown.
Ms Kells was originally a missionary nurse and now works for the WEC International mission agency.