Arlene Foster says DUP and UUP in election pact talks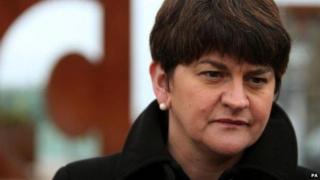 The DUP and UUP are continuing to hold talks about forming a unionist pact ahead of the general election on 7 May, DUP MLA Arlene Foster has said.
Mrs Foster said many unionists wanted the two parties to work together.
She said they had held lengthy talks "to attempt to maximise unionist co-operation and return as many pro-union candidates as possible".
In 2010, the DUP won in eight out of Northern Ireland's 18 constituencies. The UUP did not win any seats.
The two parties fielded unity candidate Rodney Connor in the Fermanagh-South Tyrone constituency, which Mrs Foster represents in the Northern Ireland Assembly.
Mr Connor lost by four votes to Michelle Gildernew of Sinn Féin, which abstains from taking its Westminster seats.
Mrs Foster told BBC Radio Ulster's Inside Politics programme: "If you look at my situation in Fermanagh-South Tyrone, not only do we have no unionist representation, we don't have any representation at all."
She said that during the ongoing talks, the DUP had "spent many hours, in a spirit of good faith, working alongside the Ulster Unionist Party".
The SDLP's Alex Attwood said calling for electoral pacts was "clinging to the past".
"The SDLP reject pacts," he said.
"We say to nationalism and to unionism that May must be about the character and content of our politics and a future different from the past and present."
Inside Politics is on BBC Radio Ulster on Saturday at 13:35 GMT