Theresa Villiers in fresh bid to resolve north Belfast parades issue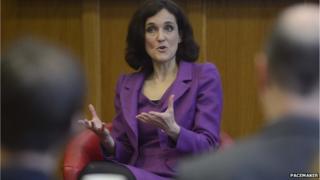 Northern Ireland Secretary Theresa Villiers is to start fresh meetings to try to find a way forward on the north Belfast parading dispute.
She called for the business community, civic society and political leaders to work on the issue.
The dispute is about a stretch of the Crumlin Road that separates mainly unionist and nationalist areas.
For a number of years, republicans rioted at Ardoyne after Orangemen marched along the road on 12 July.
In 2013, the Parades Commission determined that the march had to stop before it reached the interface.
Loyalists rioted for several nights. There have been daily protest parades ever since and a camp at Twaddell Avenue.
In her speech, Ms Villiers said she plans to start a series of meetings, to try to find what she calls an "inclusive way forward".
'Responsibility'
In her speech at Queen's University, Belfast, Ms Villiers said that any new initiative needs to involve a broad range of people.
She called for business people, civic society and political leaders to "work together on this with the same determination and vision which has resolved so many intractable problems in the past".
Ms Villiers also said: "All of us with an interest in building a peaceful, stable, inclusive and prosperous Northern Ireland have a responsibility to do what we can to help resolve the north Belfast question."
In October, she announced plans for a panel of experts to examine the issue.
But in December, following the Stormont House Agreement, Ms Villiers scrapped the initiative, saying it did not have enough support from people closely involved in the dispute.
At the time, unionists and the Orange Order were critical of her decision to drop the panel.
'Ham-fisted'
Reacting to Ms Villiers' speech, the Democratic Unionist Party MP for north Belfast, Nigel Dodds, said "positive action" was required to resolve the Ardoyne dispute.
"Before Christmas Theresa Villiers hamfistedly binned the north Belfast parades panel," Mr Dodds added.
"Had that panel been appointed we might have been a great deal further forward than searching around for some kind of new initiative now."
The DUP MP added: "I hope that the secretary of state will listen to the people most directly affected including lodges, bands and local communities so that the real feelings on the ground will be reflected."