Harry Gregg foundation launched at Ulster University in Coleraine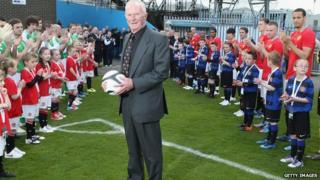 One of Northern Ireland's most iconic footballers, Harry Gregg, has been honoured through the launch of a foundation in his name.
Leading local figures from sport and politics attended the event at Ulster University in the former Manchester United goalkeeper's home town, Coleraine.
Mr Gregg was guest of honour.
Coleraine FC Academy's community charity will now be renamed the Harry Gregg Foundation.
It currently facilitates weekly programmes for more than 4000 people of all ages, backgrounds and ability.
The aim of the foundation is to encourage young people's participation in football and other health, lifestyle, educational, heritage and social inclusion activities.
Mr Gregg survived the 1958 Munich air disaster and was praised for staying with the burning plane to help passengers to safety.
He was voted goalkeeper of the tournament at the World Cup finals in Sweden, held in the same year.
Mr Gregg's daughter Linda said the people of Coleraine had been keen to mark the achievements of her father with a statue, but he had wanted to facilitate a project that would benefit the whole community.
'Inspired'
"Dad didn't want a statue in his honour," she said. "But a 'foundation' to inspire those that have dreams?
"I hope that all who have dreams can be inspired by Dad, for he made his dreams come true."
Among those at Thursday's launch was local actor James Nesbitt, who praised Gregg as a "global sporting legend".
"For him to be here, you can see him with his grandchildren, he's got such an endearing and bubbly personality that it can only be infectious," he said.
"It's an honour for all of us to be here tonight and a privilege to be in his presence."
Former Northern Ireland international Steve Lomas, who is a relation of Gregg, said the foundation was a fitting tribute.
"The area needs funds, like everywhere in Northern Ireland, to improve facilities and get kids out playing football, because if they're anything like mine, there's too much to keep them indoors," he said.
Mr Gregg is a keen advocate of grass roots football and ahead of Thursday's launch, he reflected on his childhood in Windsor Avenue, Coleraine, playing the sport.
"We used to play on the meadow across the way from my house, myself and all the lads in the area, we played for hours and those times meant everything to me, they made me what I am today," he said.
"Now we, who gave the game to the world, are being taught the game by those we gave it to because we don't have enough young people playing on their own meadows.
"We must encourage them, sell them the dream and give the game back to them."