Aurora borealis: Northern lights sparkle on Causeway coast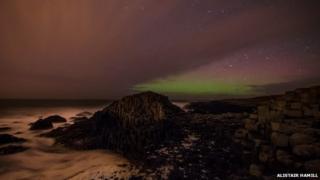 Stargazers on the County Antrim coast received an unexpected surprise on Monday night when the aurora borealis loomed into view.
Last week, Nasa astronaut Terry Virts captured the northern lights over Scotland from the International Space Station.
Local photographer Alistair Hamill remained on terra firma to capture these images near the Giant's Causeway.
But the result still offers a glimpse of another dimension.