Future of Belfast Harbour explored by NI Executive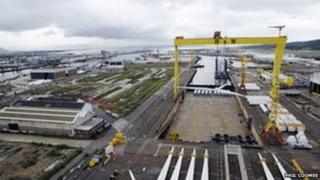 The future of Belfast Harbour, including potentially its sale, is being explored by the Northern Ireland Executive.
A panel to advise on a way forward is likely to be established shortly.
Under legislation, the executive could get as much as £400m from a 50% split of the proceeds.
However, Finance Minister Simon Hamilton told BBC's The View that while a sale was subject of debate, "other options are worth exploring".
A panel is likely to be formed to look at ways the executive could "release value" - money - from the harbour.
This could be a levy, or a new lease arrangement on its land, but the process would probably require legislation and take years to do.
"This is something we could not do this year even if we wanted to," said Mr Hamilton.
"Times are tough but we do not have a situation at this minute in time where we need to get the receipt from selling the harbour.
"There are other options in between."
'Suggestions'
Regional Development Minister Danny Kennedy, whose portfolio covers the harbour, said he "was not inclined to support the sale or privatisation of Belfast Harbour".
Mr Kennedy told The View: "I am minded to appoint a panel to give me suggestions on the way forward.
"I feel it would be an important piece of work."
The idea of selling the harbour - and other public assets - was discussed in negotiations leading to the Stormont House Agreement late last year.
Legislation already exists that would allow the executive to trigger the sale of one of Northern Ireland's most profitable businesses.
The harbour is a commercial operation run by publicly-appointed commissioners.
As well as port activities, it controls a huge land bank on both sides of Belfast Lough.
Economist John Simpson told The View he would "not be surprised" if the entire asset was worth up to £800m.
The View BBC One at 22:35 GMT