County Antrim and Down crashes: Two women are dead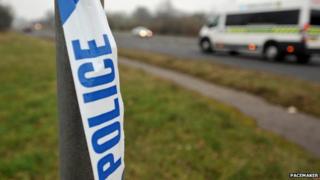 Two women have died in separate crashes in County Antrim and County Down.
A woman in her 50s died after a two-vehicle crash on the Lisnevenagh Road, between Antrim and Ballymena, at about 20:45 GMT on Tuesday.
The driver of the second car was taken to hospital, but his injuries are not believed to be life-threatening.
In County Down, Roberta Hamilton, 75, from the Ballyhalbert area, died following a three-vehicle crash in the village on Tuesday.
She was a passenger in one of the vehicles involved in the crash, which happened on the Springvale Road at about 16:30 GMT.
The drivers of the cars were not reported to be injured.
'Dangerous'
Ballymena SDLP councillor Declan O'Loan arrived at the scene of the Lisnevenagh Road crash shortly after it happened.
"There have been many accidents causing death and serious injury on this eight-mile stretch of dual carriageway. I believe that it is now time for a full safety review of this road," he said.
"A review should examine the design of the road and should closely examine the accident history.
"This is a 70mph dual carriageway with numerous intersections which in my view do not meet modern engineering standards and are just dangerous."