Martin McGuinness 'warned of rocket attack death threat'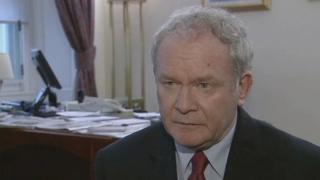 Northern Ireland's deputy first minister has said police have warned him of a dissident republican threat to kill him in a "rocket attack".
Martin McGuinness said officers told him that the threat came from a group calling itself the Continuity IRA.
"I have been made aware the PSNI has discovered a plan to launch a rocket attack against me," the Sinn Féin MLA said.
He said he would not be "silenced or deterred" by threats to his life.
"The PSNI has said that a group calling itself 'CIRA' considered an attack against me using a rocket launcher," Mr McGuinness said in a statement.
"If those behind this threat think they have ability to destroy the peace agreements which have been endorsed by the overwhelming majority of the people of Ireland then they are clearly detached from reality," he added.