Rory McIlroy court battle with Horizon Sports Management adjourned to Wednesday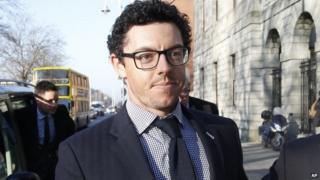 Rory McIlroy's court case against his former management agent in Dublin has now been adjourned until Wednesday.
The world's number one golfer is suing Horizon Sports Management following a multi-million euros dispute over fees.
The period under dispute coincided with McIlroy's sponsorship deal with Nike, said to be worth about $100m (£66m).
The golfer complained that fees charged by Horizon were excessive. The Dublin firm is counter-suing for outstanding fees, alleging breaches of contract.
Barristers told the judge at the start of High Court proceedings in Dublin on Tuesday that as the case was due to last eight weeks, the legal teams wished to narrow the issues at hand and wanted to defer a start until the afternoon.
Later, counsel for McIlroy said that both parties "were making progress".
McIlroy was in court for the brief initial hearing on Tuesday morning.
A preliminary hearing, at the city's Commercial Court in October, heard that attempts to resolve the situation by mediation had failed.
Contract
McIlroy has previously claimed that an agreement that he signed when he was 22 is invalid and unenforceable on a number of grounds.
He said he was inexperienced and did not have independent legal advice at the time.
In January 2013, about two years after he entered the Horizon contract, he was unveiled as Nike's brand ambassador.
The Nike deal made him one of the highest paid sports stars in the world.
By September 2013, he had parted company with his agent and set up his own company, Rory McIlroy Incorporated, to manage his affairs.
At the time, a statement on the golfer's website read: "Rory McIlroy confirms he has terminated his contract with Horizon Sports Management and that the details of the termination are in the hands of a legal team."
Speaking to BBC Northern Ireland last week, the golfer said he hoped the court case could be sorted out quickly so that "everyone can move on with their lives".
"It's not something you want hanging over your head and it's not something I'd want anyone to go through, it's not a nice process," McIlroy said.
"It's a shame it's gone this far and that two sides see things completely differently. The only way to sort it out is to get a judge to come in and tell us what to do."
The 25-year-old golfer, from Holywood, County Down, won the Dubai Desert Classic at the weekend.
He has now achieved four wins and three runner-up finishes in his last seven European Tour events.