Plain tobacco packaging: NI to be included in UK-wide legislation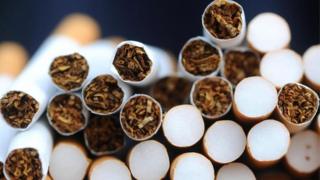 Northern Ireland is to be included in UK-wide proposals to introduce plain, non-branded packaging for cigarettes and other smoking products.
Stormont's Health Minister Jim Wells said he expects to see plain packaging made compulsory in the UK by next year.
He said ministers in England, Wales and Scotland were all proposing to implement the same legislation.
The regulations are to be laid out during the current parliament and could come into force in May 2016.
'Designed to excite'
Anti-smoking campaigners have argued that cigarette branding and packaging encourages people to smoke.
Mr Wells told the BBC's Evening Extra programme: "From 2016, all the packages will be plain brown, apart from a very stark health warning on them."
He said he supported a ban on what he described as "glamorous packaging".
"Particularly, some of the packages that are aimed at young girls are almost like perfume bottles in their appearance. They're designed to excite and designed to look as 'cool' when they're brandished by those who smoke," the minister said.
"We want to discourage young people from taking up the habit, because what we do know is, for 80% of those who start smoking, start before the age of 18, and therefore we have to make smoking as uninteresting and as boring and dull as possible."