Alasdair McDonnell predicts SDLP will play role in next UK government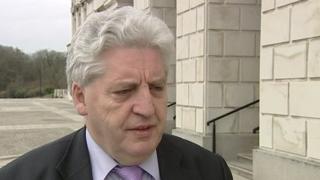 The leader of the Social Democratic and Labour Party (SDLP) has predicted his party will play a role in a future UK government after the general election.
Alasdair McDonnell said the SDLP could help to form a coalition government in the event of a hung parliament in May.
He said he envisaged a coalition consisting of Labour, the Scottish National Party (SNP) and the SDLP.
Dr McDonnell said his party would maximise its influence to get a better deal for Northern Ireland.
He said the SDLP would work to reverse what he called the "savagery" of some recent cuts.
'Enough numbers'
Dr McDonnell made his remarks on the BBC's Inside Politics programme.
"If I was to make a prediction today, I would be predicting a Labour/SDLP - and remember SDLP, you heard it here first - Scottish Nationalist government," he said.
"I think the Labour Party may very well fall short but they will require not just enough numbers to get them over the line, but they will require something comfortable to make a government work."
The south Belfast GP has been a long-standing member of the SDLP and was elected to lead the party in November 2011.
The SDLP currently has three MPs at Westminster.
Alasdair McDonnell's interview will be broadcast on BBC Radio Ulster's Inside Politics programme, shortly after 18:00 GMT on Friday 30 January 2015.