BBC, ITN and Sky reject DUP election debates call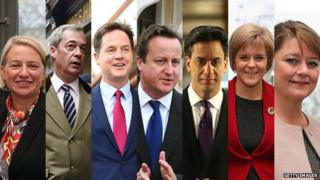 The BBC, Sky and ITN have confirmed that they will not be inviting the DUP to take part in the main televised debates ahead of the general election.
The broadcasters are proposing three debates - one between David Cameron and Ed Miliband, and two adding Liberal Democrat leader Nick Clegg, UKIP, the Green Party, the SNP and Plaid Cymru.
The DUP had demanded to be included.
However, the broadcasters said having only one Northern Ireland party "would be unfair and discriminatory".
Both the BBC and UTV plan to hold dedicated debates in Northern Ireland, involving all the larger Stormont parties.
'Bizarre'
However, Northern Ireland Secretary Theresa Villiers said there is a "real problem" with the way the broadcasters have treated Northern Ireland parties over the UK-wide election debates.
Ms Villiers said it seemed "bizarre" that the broadcasters were intending to include parties from Scotland and Wales, but not from Northern Ireland.
"There's a strong case, if you have a whole range of parties, some of whom have fewer MPs than the DUP do - it seems odd to exclude a party which is the second-largest opposition party - and yet they are including parties with very small numbers of MPs," she said.
In separate letters, ITV and the BBC have written to DUP leader Peter Robinson and set out the reasons for not including his party in either network debate.
'Public interest'
The BBC's Director General, Tony Hall, said: "We would not be fulfilling our obligations of impartiality to the voters of Northern Ireland if we were to invite one of the Northern Ireland parties but not all the others, which also have substantial support in Northern Ireland."
An ITV spokesperson said: "We take the view that these proposals best meet the objective of delivering a series of relevant and valuable political debates for viewers across the UK.
"We are satisfied that it is in the public interest to proceed with these proposals as they now stand."