Gerry Kelly defends role over On The Run letters following halted inquest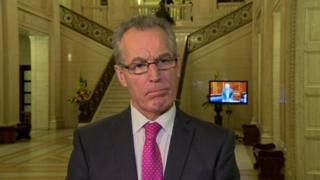 Sinn Féin MLA Gerry Kelly has defended his role in the On The Runs scheme, after a man considered a chief murder suspect was mistakenly given an On the Run letter.
It emerged on Monday during an inquest into the murder of Gareth O'Connor in Newry, County Down, in May 2003.
The letter was delivered to a leading suspect by Mr Kelly in 2008.
Other political parties are now calling for an investigation into Sinn Féin's role in the issuing of the letter.
Mr O'Connor disappeared while he was travelling to Dundalk Garda Station to sign as part of his bail conditions after being charged with membership of the Real IRA.
He never arrived. In 2005, a car containing his body was dragged from Newry Canal.
His family have always believed he was killed by the Provisional IRA, despite assurances from top figures in the republican movement, including Mr Kelly, that he was not.
Mr Kelly said he did not know the identity of the murder suspect.
'Conduit'
"Let me make it very clear that I don't know, and there is no name for a recipient so I don't know who the letter is to, or what it's about," he said.
"It is now public knowledge that my name was on most of these letters as a conduit for Sinn Féin."
Mr Kelly added that "there was never any discussion about what they might be on the run for or not on the run for", and once he passed on information to the Northern Ireland Office (NIO), "the process after that belonged entirely to the NIO or police services".
The Democratic Unionist Party (DUP), Ulster Unionist Party (UUP), SDLP and Traditional Unionist Voice (TUV) have all called for action, following the revelation that the suspect was given assurance he was not being sought by the authorities in relation to the 2003 murder.
'Shambolic in operation'
However, the government scheme for administering the letter was only supposed to apply to people wanted for paramilitary crimes committed before the 1998 Good Friday Agreement.
DUP MP Ian Paisley said the letter demonstrated why Sinn Féin wanted the scheme to remain secret.
"This secret scheme was operated for the sole benefit of republicans and since it was first uncovered we have seen just how involved Sinn Féin were in its operation," he said.
"It was shambolic in operation and in principle.
"The government has now stated that these letters cannot be relied upon to avoid prosecution. This case once again demonstrates the importance of those words."
'Explanation'
Ulster Unionist MLA Danny Kennedy said Mr Kelly owed the O'Connor family an explanation.
"I am astounded to hear that a suspect in a murder case has not been interviewed due to him being in receipt of an On The Run letter," he said.
"This is not how the criminal justice system ought to operate."
Meanwhile, SDLP MLA Dominic Bradley said Mr Kelly had serious questions to answer.
He said: "The fact that today's inquest hearing has been postponed as a result of the discovery of an On The Run letter is deeply disturbing and leaves serious questions to be answered, not least of all by Sinn Féin and Gerry Kelly in particular."
Alliance deputy leader, Naomi Long, expressed her anger and said "the lack of transparency and proper accountability and oversight of this process has, yet again, caused considerable hurt to a grieving family".
TUV leader Jim Allister said the mistaken issuing of the letter suggested that the NIO and PSNI sent them "without even the most elementary checks".