Fermanagh woman on team who made fingerprints 'breakthrough' in wildlife crime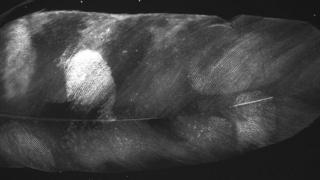 A County Fermanagh woman is among a team of scientists who claim to have made a forensic breakthrough in the fight against wildlife crime.
Helen McMorris, from Ballinamallard, has recovered fingerprints from the feathers of birds of prey.
Such birds are under threat from poisoning, shooting and trapping.
Ms McMorris said: "I hope that we've managed to create that vital link between the individual who's committed the crime and the bird."
She belongs to a team from the University of Abertay, in Dundee, Scotland.
The team has shown, for the first time, how incriminating marks can be lifted from the birds' feathers using fluorescent powders.
These could help police to identify suspects.
Ms McMorris explained how the research, which is is published in the journal Science and Justice, came about.
"I was on a university placement in the summer of 2010 and I saw a pigeon feather proudly placed on an office wall," she said.
"It had been, out of curiosity, dusted for a fingerprint by a senior examiner in Fife in Scotland.
"I guess it sort of came from there in the sense that could we put a more criminal spin on it and see if we could relate it to birds of prey and the wildlife crime issue that we have here in Scotland and further afield."
The RSPB's latest figures reveal that in 2013 there were more than 120 confirmed incidents of shooting, trapping and poisoning of birds of prey in the UK.
But scientists say that if the dead birds have been handled, possibly when they were discarded, crucial fingerprint evidence could be gathered.
Ms McMorris said: "Most of the causes of death tend to be through trapping or poisoning but someone has laid the trap and someone has placed the poison in the bait and, obviously, handled the bird and possibly removed it from the hill.
"We haven't actually designed a new technique for fingerprint recovery, we have just used an existing one and found the most effective one."
The team used green and red fluorescent powder that glows under specialist lighting.
They did not always get an identifiable print, but could get precise areas of contact with the feathers that could be swabbed for DNA.
The researchers also recovered fingerprints from eggs using black magnetic powder, which could help police to track down and prosecute illegal collectors.
Ms McMorris said: "The authorities are aware of it, so hopefully... the people already in wildlife forensics and fighting against wildlife crime will think about taking it on board as a potential new method in their fight against the perpetrators."