Boogaloo and Graham nominated for live action short Oscar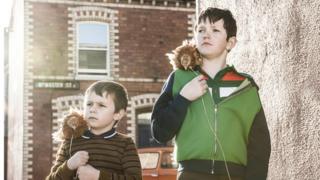 A Northern Ireland short film, Boogaloo and Graham, has received an Oscar nomination in the live action short category.
The film, directed by Michael Lennox is set in 1970s Belfast.
Boogaloo and Graham is about two young boys who discover the facts of life with the help of their pet chickens.
Director Michael Lennox said: "It is really overwhelming and such an honour for all the cast and crew involved to be recognised by the Academy."
The short film was written by Ronan Blaney and produced by Brian Falconer and stars Belfast actor Martin McCann and Charlene McKenna.
Another Northern Ireland film, SLR, was selected for the Academy Awards long-list in the same category but was not chosen to compete at the Oscars next month.
Belfast man Terry George won an Oscar in the same category for his short film The Shore in 2012.
This year's Academy awards ceremony will be held on Sunday 22 February 2015 at the Dolby Theatre in Hollywood.