Northern Ireland super council names spark controversy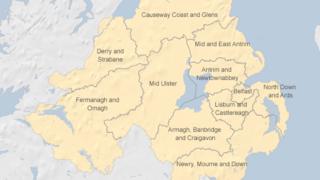 What's in a name? For some of Northern Ireland's new super councils it seems quite a lot.
Northern Ireland's 26 district councils are being replaced by 11 larger councils in April.
While naming the new larger councils has not been an issue for most, others have sparked controversy.
Last month, councillors in North Down and Ards decided to call theirs East Coast Borough Council.
However, after a negative reaction from some constituents, they are now having second thoughts and the name has gone out for public consultation despite thousands of pounds having already been spent on rebranding based on the name East Coast Council.
Ulster Unionist Ian Henry denied it was an embarrassment for the new council.
"I think it's actually not embarrassing at all," he said.
"This is something that the council are now taking to the public and allowing the public to have a choice and one of the first major decisions this new council is going to make is the name for the new district which will last for more than our lifetimes.
"I would hope we'll end up with a name that will be worthy of the new district that will come from the public."
The DUP's Alan Graham added: "My first choice was North County Down, but I could have lived with East Coast.
"There's a process of further consultation with the public and we'll see what they have to say and hopefully there'll be some coming to consensus on the issue."
'Colouring-in committee'
But that's not the end of the discord.
A black and white crest was suggested for the new council. However, a working group has now been set up to discuss the colour.
It has been dubbed the "colouring-in committee".
The new Newry, Mourne and Down council has faced similar controversy over its name.
While 23 councillors voted for that name on Tuesday night, 17 - all Sinn Féin councillors, two SDLP and one independent - voted for Newry City, Mourne and Gullion.
Sinn Féin has said the exclusion of Gullion from the name was a snub to south Armagh.
While the party says it will respect the council vote, South Armagh Chamber of Commerce has started up a campaign to get the name changed.
'Shocked and dismayed'
The chamber's Fiona Kieran said they had been working closely with Newry and Mourne Council recently on rebranding the south Armagh area for tourism initiatives.
"Imagine from a chamber point of view how shocked and dismayed we are at the fact that with all this investment, time and effort from a tourism point of view into the Ring of Gullion area, that we now find ourselves left out of the name," she said.
"From a destination point of view, we need to be included under the council name. As a footnote, as some sort of subsidiary to the name, that would not be enough."
Her colleague Colm Murphy added: "The general consensus from people in the area, from both sides of the community, is a case of feeling left out.
"We do intend to lobby councillors and also the local businesses here, there is a petition going out to businesses.
"So we're gathering a very active campaign here at the moment and there is an online Facebook petition running. All we're looking for is parity in it and equality in it."
However, the SDLP's Colin McGrath said the name Newry, Mourne and Down was the best option.
"If you take Newry, Mourne and Gullion, that's actually three names of district electoral areas of which there are seven in our new council area.
"So what you would be doing would be picking three out of seven and using them in your name and obviously excluding four out of the seven.
"The other alternative, Newry, Mourne and Down, that is actually Newry and Mourne council and Down council which are the two councils that everybody, including the people of south Armagh, are living in, because they're part of Newry and Mourne Council at the minute.
"I think what's happening here is there's maybe an issue of the people of south Armagh not feeling part of Newry and Mourne, but that's probably an issue from 40 years ago."
Legal advice
In the north west, unionist councillors are awaiting legal advice on whether they can challenge the decision to name the new council Derry City and Strabane District Council.
DUP councillor Gary Middleton said: "We felt we wanted to have a conversation around the name, we wanted to see if there could be an agreement around a name that could accommodate all communities.
"That's why we're taking the legal advice. The lack of consultation was our issue."
He said while unionists would have liked to get Londonderry into the name, there were other options such as Foyle district council which could have been discussed.
While there was controversy over the names of these councils, most have been agreed without issue.
There was some speculation that the 'Glens' could be dropped from the name of the Causeway Coast and Glens Council. In the end, the name was unchanged.
Apart from North Down and Ards, only one other council - Armagh, Banbridge and Craigavon - has yet to confirm a new name.
Northern Ireland's 11 new councils:
Antrim and Newtownabbey District Council - name confirmed
Armagh, Banbridge and Craigavon District Council - name not yet agreed
Belfast City Council - name unchanged
Causeway Coast and Glens District Council - name agreed
Derry City and Strabane District Council - name agreed, unionists seeking to challenge it
Fermanagh and Omagh District Council - name agreed
Lisburn & Castlereagh City Council - name agreed
Mid and East Antrim District Council - name agreed
Mid Ulster District Council - name agreed
Newry, Mourne and Down District Council - name agreed
North Down and Ards - Name back out for consultation