PSNI reinstates suspended officers due to budget pressures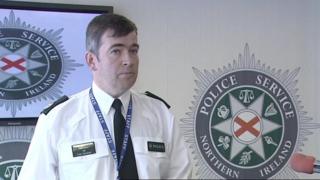 Six police officers who were suspended due to misconduct allegations have returned to work while their cases are still under investigation.
The Police Service of Northern Ireland said it has taken the decision due to financial pressures on its budget.
The reinstatement policy was revealed by the Ballymena Guardian newspaper.
'Change in policy'
In a statement to the paper, the PSNI said it had carried out a review and decided that a small number of officers could return to "restricted duties".
Officers who are under investigation for allegations of wrongdoing are usually suspended on full pay pending the outcome of disciplinary proceedings.
However, that policy has changed after Deputy Chief Constable Drew Harris carried out a PSNI-wide review of suspension cases.
A police spokesman has confirmed to the BBC that the six officers, who were previously suspended, are "now back in repositioned, restricted posts which include minimal public contact and restricted access to police information".
Two other officers, who were also under investigation, have had their suspensions rescinded and have now been reappointed to full duties.
At present, a total of 18 officers remain suspended from all duties.
The Ballymena Guardian asked the PSNI about the issue after one officer, who is the subject of an internal investigation, was recently reinstated at a police station in the area.
The newspaper's editor, Jim Flanagan, told BBC Radio Ulster: "These are active investigations, they're not concluded yet, so nobody has been, as it were, convicted of anything yet, but nevertheless it does mark a change in policy," Mr Flanagan said.
"The interesting thing about it is that they [the PSNI] openly concede that they conducted this review as a result of the heavy financial pressure that they're under."
Budget warning
The PSNI officer in charge of the district, Ch Supt Raymond Murray, said: "The deputy chief constable, taking into consideration the current financial pressures being faced by the PSNI, recently reviewed all police officer suspensions.
"The review identified a small number of officers who could be returned to restricted duties."
He added: "These restrictions would included minimal public contact and restricted access to public information.
"Any decision to bring a suspended officer back to work in no way minimises the view which the police service takes in regard to the seriousness of the alleged conduct or offences."
Last September, Chief Constable George Hamilton warned that the prospect of millions of pounds in budget cuts would have a detrimental impact on frontline policing.
At the time, he told the Policing Board the cuts could mean reducing the amount of resources used to investigate events of the past, in order to concentrate on policing the present.