Simon Hamilton to announce cash boost for Stormont department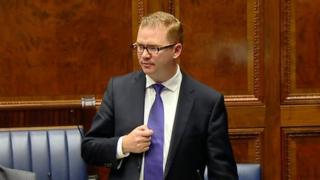 More money will be allocated to the Department for Employment and Learning when the Stormont executive agrees a final budget, a minister has indicated.
The Department for Employment and Learning faced an effective cut of almost 11% in the draft budget.
It sparked criticism, amid fears it could lead to a significant reduction in university places.
However, Finance Minister Simon Hamilton said he hopes to partially rectify that in the final budget.
Both the Minister for Employment and Learning, Stephen Farry, and Queen's University have said it is too early to comment on suggestions that extra money will mean fewer cuts to undergraduate places.
BBC News NI Economics and Business editor John Campbell said: "The department funds the two local universities and they said a cut of that magnitude could lead to 1,000 fewer university places.
"Business groups and others criticised that settlement, saying a reduction in the number of graduates would be bad for the economy."
When the document was agreed by ministers last October, Mr Hamilton said it was "rooted in tough choices".
Only the DUP and Sinn Féin voted to support the draft budget.
NUS-USI President Rebecca Hall said on Tuesday that it was "vital" that Mr Hamilton and the Stormont executive reversed "the cut proposed for the Department for Employment and Learning within the draft budget".