Parades disputes hold NI to ransom says Canon Ian Ellis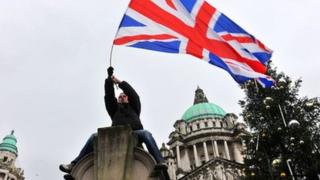 Disputes over parades and flags are holding Northern Ireland to ransom, the editor of the Church of Ireland Gazette has said.
Canon Ian Ellis told Radio Ulster's Sunday Sequence that he felt there was "a disconnect" between the loyal orders and the Churches.
There was "insufficient depth of communication", he said.
He called for a more structured, in-depth exchange and has proposed setting up a new forum.
"I do feel that continuing disputes over parades and flags are, in a way, holding the people of Northern Ireland to ransom," he told presenter Roisin McAuley.
"They do cast a dark, dark shadow over the future. So the disputes require a mutually agreed resolution on the part of all those involved."
Canon Ellis said most people in Northern Ireland wanted an end to disputes over expressions of identity.
He said a forum would be officially appointed by the churches that wished to be part of it and by the loyal orders.
He said the Churches would offer "a fresh perspective".
"The Churches would not be coming with answers; the Churches would be coming with perspectives on how one does this type of thing," he said.
The Stormont House Agreement, settled before Christmas, tackled a number of contentious issues in Northern Ireland.
However, there was no huge progress on two issues inherited from the Haass talks.
The UK government proposed that powers over parading should be devolved to the Northern Ireland Assembly and fresh legislation should be drafted.
However, there is no firm agreement on a replacement to the Parades Commission that currently rules on marching disputes.
Disputes over flag flying, which led to serious rioting in the greater Belfast area in 2012 and 2013, also remain unresolved.
The issue will be passed to a 15-strong commission for further discussion.