Alliance Party ratifies Stormont House Agreement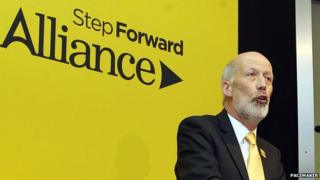 The Alliance Party's ruling executive has ratified the Stormont House Agreement.
The five main parties reached broad agreement on 23 December on a number of key issues.
Alliance Party leader David Ford said the party had committed to implementing the agreement, even though it had left major issues unresolved.
"The executive echoed my concerns that too much of the document merely reflects a deal to do a deal," he said.
"It is not the comprehensive agreement that Alliance had hoped for and falls short of the public's expectations."
'Missed opportunity'
Mr Ford said the strongest aspect was "the commitment to deal with the legacy of the past", but the party had "real concerns that other aspects of the proposals reflect only a partial agreement".
"There was a missed opportunity to deliver a consistent Northern Ireland-wide policy for the official display of flags and we are left with the prospect of further discussion on parading with continuing problems," he said.
"Alliance welcomes the financial package that accompanies the agreement, but would caution against any suggestion that it will resolve all our budgetary problems.
"The belated deal on welfare is something that could have been agreed two years ago, avoiding the squandering of over £100m in penalties."
Sinn Féin's ard chomhairle (party executive) has already ratified the agreement, but Ulster Unionist Party members have reserved judgement, agreeing simply to "note" what had been agreed.
Following the talks, DUP leader Peter Robinson said he would be recommending the document to his party executive, while the SDLP voiced disappointment.