Concern over quad bikes in Ballysillan Park, Belfast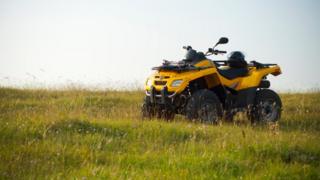 People living in north Belfast have said they are concerned someone will be seriously injured if young people keep riding quad bikes in public parks.
Residents claim children, some as young as six years old, are using quad bikes or scramblers in Ballysillan Park.
Police said they were concerned about such incidents in the park and were taking action to address the problem.
The most recent incident happened on Saturday when a man narrowly escaped being hit by a quad bike.
It is forbidden by law to ride scrambler or quad bikes in public spaces, such as playing fields or public parks.
Community worker Phil Brannan said he had witnessed young people riding their vehicles in Ballysillan Park.
"You can actually see the tracks coming across the paths where the people are walking, where dog walkers are, where pensioners are and if a bike's flying down there at 60 or 70 miles an hour what chance has a pensioner got of getting out of its way," he said.
Risk
"It's just an accident or another death waiting to happen unfortunately. Somebody was killed a few years ago just off Berlin Street.
"This a park for the public. It should be for the public to come in and feel safe whether it be to walk about, walk their dogs or to play with their families, not for big machines to be flying about here at all sorts of speed.
"There needs to be designated areas where these people can go."
PSNI area commander Robert Singleton said the issue of young people riding quad bikes in public parks was a "persistent problem" for police.
"It's one that escalates at this time of the year whenever a number of people receive these bikes as Christmas presents," he said.
"Certainly we've heard first hand concerns from the local community there and indeed observed it ourselves and we're committed to working with them to tackle this issue.
"In relation to the most recent incident which occurred on Saturday where a gentleman was fortunate to escape without injury, we have already warned one of the riders who was involved in that incident."
He said police were tackling the issue.
"We have a range of powers ranging from the power to warn riders, to seize their vehicles right up to prosecuting them for some of the most serious road traffic offences," he said.
Information
"In the past we have not only warned riders, but seized their vehicles and in some circumstances actually prosecuted people for a range of road traffic offences as well."
In recent days police have reissued advice to parents and riders and appealed for members of the public to report anyone riding a quad bike in the park.
Mr Singleton said anyone with a genuine interest in motocross should seek out information about how to indulge their hobby safely and lawfully.
"If they were to go online they will find that there are a number of clubs and societies across the country who can perhaps offer them further advice on where they can use these vehicles lawfully and safely," he said.
"The only place to really do it is on private ground where you are authorised."