Dublin: Nurses act as trolley waits rocket across Republic of Ireland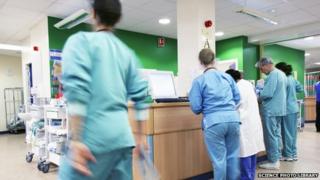 Nurses at Dublin's Beaumont Hospital are to serve notice of industrial action later.
Members of the Irish Nurses and Midwives' Organisation (INMO) said it was as a result of overcrowding in the hospital.
The nursing union said that 563 patients were waiting for admission across the Republic of Ireland on Monday.
They said this was impacting on patient safety and on staff.
The Health Service Executive (HSE) said it could not validate the INMO figures but apologised for A&E waiting times.
The news comes as the Irish Health Service Executive (HSE) confirmed one of its directors is to resign.
Dr Tony O'Connell is director for acute hospitals and chair of the Emergency Task Force. He was appointed last May. He has decided to return to Australia.
Nursing staff at the Beaumont Hospital are to begin a work-to-rule on 27 January. Lorraine Monaghan, INMO, said notice of the action would be served to hospital management on Tuesday.
She warned the action could escalate to work stoppages if the situation did not improve.
The HSE's deputy national director of acute hospitals said about 800 patients were waiting to be discharged from hospital beds in the Republic of Ireland. This is compared to a figure of about 600 at the same time last year.
Speaking on RTÉ's Morning Ireland, Angela Fitzgerald said the situation over the past 48 hours had been "very concerning".
Ms Fitzgerald said the HSE had looked for "additional resources" to deal with the issue of delayed discharges, but declined to specify the amount of money sought.
She said overcrowding in emergency departments "created safety concerns", but refused to be drawn on whether she believed these hospitals were safe for patients to attend.
Ms Fitzgerald said she shared the concerns of the public and the HSE was committed to stabilising the situation.
She said funding of 25m euro (£19.6m) was to be provided to help reduce overcrowding, mainly targeting the Dublin area.