Ballymoney: Victim named as Brian McIlhagga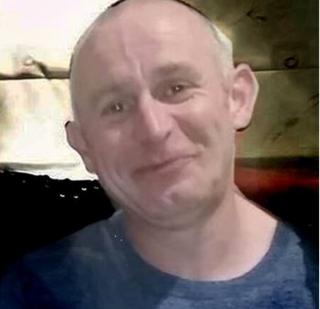 The man who died in an overnight gun attack in Ballymoney, County Antrim, has been named by police as 42-year-old Brian McIlhagga.
The father-of-five, who was originally from Ballymena, was attacked by an armed gang outside a house at Riverview Park just before 22:30 GMT on Monday.
He had been beaten and shot once in the leg and died from his injuries.
A woman and four children under the age of 13 were in the house at the time. The woman was assaulted by the gang.
She was taken to hospital but her injuries are not thought to be life-threatening.
Det Ch Insp Michael Harvey said the woman rang 999 to report that three masked and armed men forced their way into the house and assaulted her.
She said the gang forced her to lie on the kitchen floor.
The officer said the the men then took the victim to the front of the house, where they beat and shot him.
"This was a brutal, sustained and vicious assault on this gentleman," he said.
Justice Minister David Ford said the attack was "horrendous".
"Whoever carried this out must be condemned. There is no excuse for this kind of violence," he told BBC Radio Ulster's Nolan Show.
A woman, whose house backs on to the property where the murder happened, described hearing shots being fired.
Ivy Owens said: "I was lying with my daughter in bed in the back bedroom when I heard two almighty bangs, which I never thought, for one minute, were gunshots.
"I looked out the window to see if I could see or hear anything in my yard because it sounded so close. But I couldn't see anything.
"Moments later, my husband came home and then we saw lights (from emergency services) coming in but, again we didn't match the arrival of the lights with shots.
"I am really shocked. It's such a quiet place."
Police officers have been examining the scene of the shooting.
Leslie Gregg, who has lived in Riverview Park for almost 20 years, said he was shocked.
"For this to happen to any family is just terrible," he said.
"It is really shocking. We have been here almost 20 years and nothing like this has ever happened at all. It is normally a very quiet area.
"I saw the blue lights of the (ambulance) response and the police come in along with them, so I thought to myself there must be something wrong."
Beth McCracken, who has lived in the area for 12 years, said: "It's not often there is so much activity about here. It is normally very quiet. It was a shock this morning. To have something like that come to your doorstep is unbelievable.
"This fella is not long here and apparently he is not from here."
DUP MLA Mervyn Storey said the attack was "very sad news".
"A family has been devastated and a lady is in hospital," he said.
"It is in a very quiet residential area of Ballymoney. I have no doubt this will send shock through the community."
Darryl Wilson, a local Ulster Unionist councillor, said: "Ballymoney, in general, is a very quiet little town.
"The Riverview Park area is no exception. It is a very close-knit community. It is quite shocking for something like this to happen. People are shocked and stunned."
Sinn Féin MLA Daithí McKay said the murder was "a terrible blow to the victim's family".
"Those behind this murder need to be taken off the streets and anyone with any information on this attack should bring it immediately to the PSNI," he said.
Police have appealed for witnesses to come forward. An incident room has been set up at Ballymoney police station.