Northern Ireland men warned over weight 'crisis'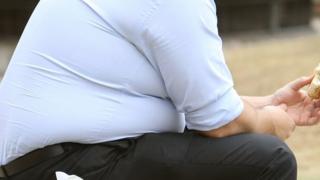 Men in Northern Ireland are facing a crisis unless they address their health and weight, according to public health agency safefood.
A report released on Tuesday, found that 69% of men in Northern Ireland are overweight or obese compared to 57% of women.
It says it is due to less healthy diets, the consumption of more fat and salt and less fruit and vegetables.
Men in Northern Ireland are being urged to take stock before it is too late.
Dr Aileen McGloin, scientific support manager of safefood, said: "The report highlights that men are generally less engaged with food both in terms of food hygiene and healthy eating, which is contributing to their greater levels of overweight and obesity in comparison to the opposite sex.
"When it comes to food preparation, some men are the main cook at home and have excellent food skills.
"However this report illustrates that when it comes to tasks such as planning, purchasing, shopping and cooking, women are more likely to be skilled in this area.
"This can make it harder for men to have a healthy approach to eating and diet, thereby resulting in poorer health outcomes."