Billy Noble: Oldest man in Northern Ireland at 106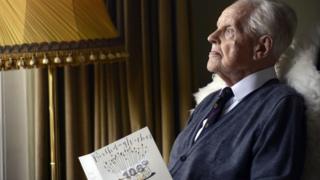 Northern Ireland's oldest man has celebrated his 106th birthday.
Former civil servant Billy Noble lives in his own home in Jordanstown, County Antrim.
He is cared for by his son Denis and daughter-in-law, Pamela.
Church of Ireland Bishop of Connor, the Right Reverend Alan Abernethy, was amongst well-wishers who called with him.
Coronation in black and white
Mr Noble was born in 1909 to a shipbuilding father.
After an education at Belfast Royal Academical Institution he went on to spend almost 50 years in the Northern Ireland Civil Service.
He remembers watching the Queen's coronation in 1953 in black and white on television, though he says he still prefers the radio.
Keen walker
Billy's son Denis says his family has the gene for long life: "My grandmother died when she was about 99."
"My father was always very fit. On a Sunday afternoon he would take us and some of the neighbours' children and went up to Knockagh monument or Carnmoney Hill for walks."
Mr Noble is a non-smoker and teetotaller, who had a great love of the outdoors.
"I was always very keen on walking and sport. I never drank and I never smoked," he said.
The 106-year-old is now the proud owner of three telegrams from the Queen, and every year receives a medal from the president of Ireland to mark his birthday.