2014 NI weather: One of warmest years on record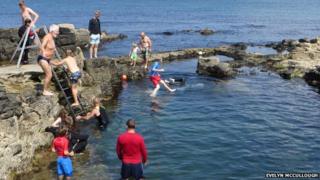 Figures from the Met Office and Met Éireann in the Republic of Ireland show that 2014 was the warmest year across the island of Ireland this decade, so far.
Northern Ireland recorded its warmest year since 2007 and the third warmest since records began in 1910.
The overall mean temperature was 9.59C.
This means that the top four warmest years ever recorded have all occurred since 2005.
2014 was also the fourth wettest with 1281.44mm of rain recorded.
Four out of the last seven years - 2008, 2009, 2011 and 2014 - all appear in the top 10 wettest since 1910.
In the Republic of Ireland the mean temperature was set at 10.6C, which is 0.6C above normal. That also makes it the country's warmest year since 2007 and the sixth warmest on record after 2007, 2006, 1997, 1945, and 1949.
Across the UK it was the warmest year on record with a mean temperature of 9.9C.
It was 1.1C above the long term average (1981-2010), beating the previous record of 9.7C set in 2006.