Night of the Big Wind: Legacy of Ireland's worst storm in 300 years
One of the worst storms in Irish history is being marked in a new TV documentary 176 years after the event.
On 6 January 1839, hurricane-force winds swept across the island, bringing death and destruction in their wake.
The extreme weather event became known to Irish speakers as Oíche na Gaoithe Móire (The Night of the Big Wind).
A new Irish language documentary about the storm, made jointly for BBC Northern Ireland and RTÉ, is to be broadcast on Tuesday night.
'Swept away'
The programme makers said they have used special visual effects and actors to reconstruct "one of the most terrifying storms in Irish history".
It has previously been estimated that there were about 90 deaths on land and in Irish waters as a result of the hurricane, according to the Republic of Ireland's national meteorological service, Met Éireann.
In a 1989 report, marking the 150th anniversary of the storm, Met Éireann experts said more than half of the victims died on land, "crushed by falling masonry or swept away in the floods".
Fifteen people drowned off the County Donegal coast, when a sailing vessel was wrecked off Arranmore Island.
'Calamity'
Met Éireann quoted a Dublin Evening Post newspaper report from the time which said: "Ireland has been the chief victim of the hurricane.
"Every part of Ireland - every field, every town, every village in Ireland have felt its dire effects, from Galway to Dublin, from the Giant's Causeway to Valencia. It has been, we repeat it, the most awful calamity with which a people were afflicted."
Thousands of houses in Dublin were damaged by the storm, some were even completely demolished by the force of the wind.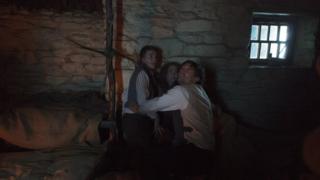 Thousands of trees were destroyed, including much of the Earl of Belmore's estate at Castlecoole near Enniskillen, County Fermanagh.
Strabane, County Tyrone, was flooded, and all the moored vessels in Portaferry harbour, County Down, were blown onto the shore.
The programme traces the immediate impact and historic legacy of the storm, how it was reported by the press of the day and "how stories of that terrifying night became engrained in Irish folklore for generations to come".
'Vivid warning'
On the night of 6 January 1839, the storm was the worst in living memory in Ireland and in the 176 years since the event it has not been paralleled.
The documentary makers have also examined the likelihood of a repeat of the disaster.
They have described the programme as "not so much a lesson in history as a vivid warning of what may yet come again".
The programme was made with funding from Northern Ireland Screen's Irish Language Broadcast Fund and the Broadcasting Authority of Ireland.
Oíche na Gaoithe Móire (The Night of the Big Wind) will be broadcast on BBC Two Northern Ireland at 23:20 GMT on Tuesday 6 January.