Newtownabbey man Dale Walsh faces child abduction charge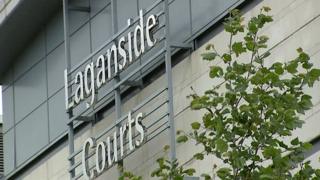 A Newtownabbey man accused of child abduction has been refused bail after a 14-year-old girl was found in his bedroom in her underwear.
Dale Walsh, 19, was charged with abducting the girl on New Years Day.
Belfast Magistrates Court was told that it was the second time in two days the teenager had been found at his home on Mulderg Drive.
He was remanded into custody to appear in court again on 19 January.
A detective said the first time the 14-year-old girl was found by police in Mr Walsh's home, she was hiding in a locked bedroom in her underwear and the second time she was found in the attic.
Both times Mr Walsh allegedly lied to police claiming she was not there, the detective said.
He was arrested, interviewed and released on bail pending a report to the PPS after the first alleged incident and warned that "he couldn't have a relationship with this girl" but despite that, the detective said the girl was again found in his property "only two days later".
Under cross-examination from a defence solicitor, the detective agreed that the girl herself had made no complaints but that her father had.