Annaclone farm fire: Search for 82-year-old man to continue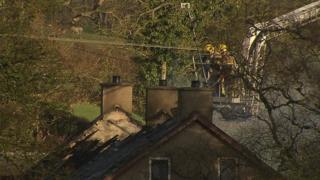 An 82-year-old man is still unaccounted for and is feared dead following a fire at his farmhouse in Annaclone in County Down.
Emergency services were called to the farm at Ballynafern Road at about 07:20 GMT on Saturday.
It is understood part of the first floor of the farmhouse collapsed and emergency services have to wait until it is safe to go in.
Crews are expected to resume the search on Monday.
South Down MLA Jim Wells said the man uses a wheelchair.
Independent South Down assembly member John McCallister told the BBC the fire had shocked the entire community.
"We live just a few fields away and as soon as we got up on Saturday morning, we could see a huge fire over the fields," he said.
"I have known the family all of my life, it is just a tragedy for them.
"It is awful for the family waiting for the remains to be recovered. It takes time and the building has to be made safe for that recovery to go ahead."
Mr McCallister said the fire was "ferocious".