Callum Logue: Tributes paid to Limavady boy who died on New Year's Eve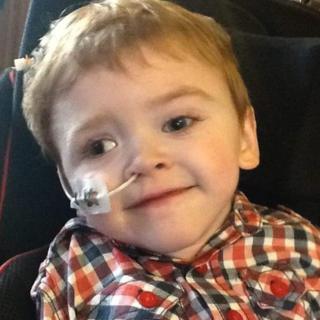 Tributes have been paid to a child from Limavady, County Londonderry, who died on New Year's Eve from a debilitating illness.
Five-year-old Callum Logue was diagnosed with septo-optic dysplasia shortly after birth and was registered blind.
He also had diabetes and was on medication to keep his hydration and sodium levels intact.
Thousands of pounds have been raised for him over the years for treatment.
Callum's mother Emma and father Gerard, researched his condition and helped to raise money so he could visit China to consider stem cell treatment.
SDLP councillor Gerry Mullan said: "Everyone knew this little boy and there's a great deal of sadness throughout the borough.
"This is going to be a very difficult time for the family and they will be in my thoughts and prayers.
"Thousands were raised for little Callum and everyone rallied around. I remember them raising money to go to China. It's such a very sad start to 2015."
Family friend and fundraiser Neil Mullan said: "He brought so many people together.
"Everyone wanted to raise money and help him. He was such an inspiration and this really puts life into perspective.
"Gerard and Emma have been through so much and deserve so much credit the way they cared for little Callum. It's just heartbreaking."
The funeral is expected to take place in Limavady on Sunday.