Flybe: Belfast plane lands safely after smoke alert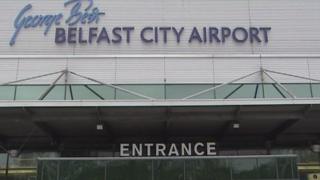 A plane carrying 69 passengers has landed safety at Belfast City Airport after the pilot requested emergency landing procedures be deployed.
The Flybe flight from Southampton was approaching the airport when the crew was alerted by a smoke indication from the baggage hold, the airline said.
Ambulances and fire engines were sent to the airport as a precaution but the plane landed safely at 17:55 GMT.
A spokeswoman for Belfast City Airport said all passengers disembarked safely.
The airport representative said emergency procedures were "enacted as a precautionary measure" and the scheduled flight, BE996, landed about 10 minutes earlier than expected.
Flybe's chief commercial officer, Paul Simmons, explained what happened.
"An aircraft coming in from Southhampton had an alarm raised in the cockpit just before landing which indicated smoke in one of the holds," he said.
Mr Simmons said the routine protocol of informing the airport and implementing an emergency landing was put into place.
"The aircraft was met when it landed," he said.
"It landed perfectly safely and the passengers were not aware of the situation and the passengers disembarked off the sets of stairs in the normal way onto buses.
"Subsequent investigations have found that there was no fire and there was no smoke so it looks like it was a warning light that went wrong in some way, but there will be a full investigation."
Flybe said the safety of its passengers and crew was its "number one priority" and added that it regretted any "inconvenience experienced".
Earlier this month, a Flybe flight from Glasgow to Belfast made an emergency landing due to an engine fire.
That incident is also under investigation.