£3.1m spent on Stormont security since Michael Stone attack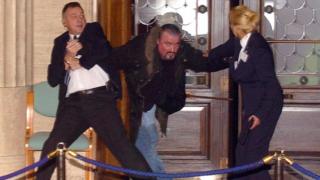 More than £3m has been spent on policing at Stormont since loyalist Michael Stone launched an attack in 2006, an assembly spokeswoman has said.
The notorious former paramilitary broke into parliament buildings and attempted to murder Sinn Féin leaders Gerry Adams and Martin McGuinness, a court found.
He was imprisoned for 16 years for the November 2006 raid.
An assembly spokeswoman said a review of security was undertaken following the Stone incident.
The total amount paid to the PSNI since the attack is £3.1m.
In 2007/08, the first financial year after the attack, the cost was £85,274.
By the time the new regime was fully up and running it reached a peak of £522,960 last year.
Changes have been introduced to reduce the cost, the assembly was told earlier this year.
"The assembly commission regards the safety and well-being of all users of parliament buildings as very important, and keeps the security of Parliament Buildings under review, thereby ensuring that this can be achieved both efficiently and effectively," the spokeswoman said.
"A review of security was undertaken following the Michael Stone incident and the deployment of Police Service of Northern Ireland (PSNI) officers was considered an essential part of the overall security arrangements.
"The commission liaises with PSNI on an ongoing basis to ensure that policing levels are appropriate in meeting the assembly's business requirements, and that value for money is achieved at all times."
Stone's attack as public representatives were considering restoring devolved power-sharing was the second time in 20 years he had tried to murder Sinn Féin president Mr Adams and Stormont deputy first minister Mr McGuinness.
In 1988, Stone murdered three men at the funerals of three IRA members.
The 2006 Stormont meeting was being held to hear if the DUP and Sinn Féin would indicate ministerial candidates.
Stone was later convicted of charges, including attempted murder, possession of weapons and explosive devices after managing to make it halfway through the revolving doors at the front of the assembly where security staff pinned him to the ground.
He threw a bag onto the ground in the great hall during the struggle.
Stone had claimed his attack was a work of performance art and the axe, garrotte, imitation handgun, three knives and homemade bombs he was carrying were artistic props.