Christopher Ross granted bail over north Belfast Poundstretcher robbery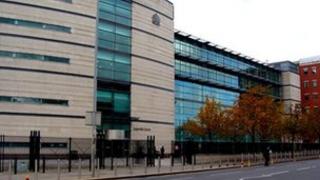 A 25-year-old man has appeared in court charged with stealing more than £1,000 during an armed robbery at a north Belfast Poundstretcher store.
Christopher Ross, of Glenbank Drive in the city, was granted bail but was banned from entering a nearby shopping centre.
He appeared before Belfast Magistrates' Court on Boxing Day.
The judge was told the accused had previously been bailed over other robberies in north Belfast in December.
He has not been charged with any of those alleged robberies.
The court was told Mr Ross allegedly stole £1,075 in cash and £125 in vouchers from the Poundstretcher shop.
A detective confirmed the defendant was to be further charged with possessing an offensive weapon, namely a knife, in connection with the same incident.
A lawyer for Mr Ross said he had sustained a brain injury up to seven years ago, which had left him suffering from epilepsy and other "vulnerabilities".
Granting bail, the judge ordered the accused to have no contact with any witnesses. He also barred him from entering the Abbey shopping centre or branches of Toys R Us and KFC in the area.
Mr Ross is expected to appear in court again on 21 January.