Newry man Simon Savage claims £1.7m lottery prize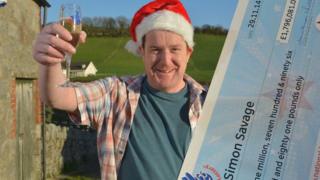 A farm shop owner from Newry, County Down, is celebrating after claiming more than £1.7m with a winning ticket on the National Lottery.
Simon Savage, only realised he had hit the jackpot after seeing media reports of a huge unclaimed prize.
And despite becoming a millionaire he says he is keeping his shop open on Christmas Eve so customers can collect their turkeys.
He said they were "shocked but amused" to see him still working after his win.
"I've had the shop now for eight years and have built up a loyal customer base that I would never let down, no matter what," he said.
The lotto draw had taken place on 29 November, but it was only after a public appeal to locate the winner that he searched for the crucial tickets that were lying around his house.
Mr Savage's winning numbers were 6, 11, 18, 19, 38 and 42.
"I had tickets in a couple of different places and the first batch I looked at had no winners, but when I looked under a cheque I planned to lodge in the bank later that day, I found two more tickets," he said.
"When I checked those, to my utter amazement one of them had the winning numbers but I still couldn't quite believe what I was seeing so I got my brother to check it again.
"I just pushed the ticket towards him and asked him to check the numbers.
"I was shaking so he asked me to sit down and after checking the numbers and dates all corresponded he told me the amazing news.
"I think we were both in shock and didn't know what to do. In the end, he just shook my hand and congratulated me."
Mr Savage has had impaired hearing since his 20s and intends spending some of his new-found wealth on finding a solution.
He also plans to go on a holiday when his normally busy Christmas period is over.