Stormont House Agreement: Obama praises NI talks breakthrough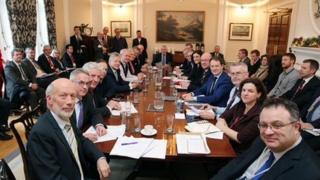 US President Barack Obama has praised the broad agreement reached in Northern Ireland cross-party talks.
The talks on welfare, the past, flags and parades involved the British and Irish governments and lasted 12 weeks.
Stormont will get £2bn in extra spending power from the UK government.
Mr Obama said it showed "when there is a will and the courage to overcome the issues that have divided the people of Northern Ireland, there is a way to succeed for the benefit of all".
US Secretary of State John Kerry said: "This is statesmanship, pure and simple, and leadership by all parties to break a political impasse and avoid a fiscal crisis by resolving complex budgetary and welfare issues."
Former Northern Ireland talks co-chair Meghan O'Sullivan said the proposals on dealing with the past "really do offer a new way forward for Northern Ireland and its people".
"That's the part of the agreement that really jumps out at me and says this is part of a new era of politics.
"All it takes is reading the papers in Belfast for a couple of days to realise that this is a society that really still spends a lot of time and energy thinking about the past."
Prof O'Sullivan worked with former US diplomat Richard Haass a year ago in talks on flags, parades and the past.
Those talks broke up without agreement at the end of last year.
She said the urgency to find an agreement increased because a number of issues continued to fester in the last year and financial issues threatened the executive, while there were also financial incentives to come to some sort of deal.
'Dysfunctional Stormont'
However, Traditional Unionist Voice leader Jim Allister said there was nothing in the proposals that makes Stormont fit for purpose.
"The core of the problem is mandatory coalition and therefore it will continue to be a dysfunctional Stormont and another few months down the line it will maybe need another bailout and another heap of sticking plaster to keep it going yet again," he said.
"So it doesn't address the real issue of why Stormont isn't working and won't work because structurally it's built on sand."
Labour leader Ed Milliband said: "I welcome many aspects of an agreement which has the potential to put the process of building a better future for Northern Ireland back on track.
"We will continue to work with the two governments and Northern Ireland's political leaders to maintain stability and tackle the inequality which continues to be the breeding ground for division and extremism in Northern Ireland."​
Meanwhile, the Northern Ireland Office has confirmed that it will not be setting up a panel to examine a parade dispute in north Belfast.
The panel was announced in October by Secretary of State Theresa Villiers, to look at ways of resolving the deadlock over a contentious Orange Order march along part of the Crumlin Road.
The NIO said there was "insufficient support for the proposed panel among some of those most closely involved in the dispute".
"We have therefore decided, on balance, not to go ahead with setting up the panel," it said.
"We will continue to work to see if a way can be found to help resolve the impasse at Twaddell/Ardoyne and encourage others to do the same."
The DUP said it would continue to press for the establishment of the panel.