No decision over ESB Donegal eel kill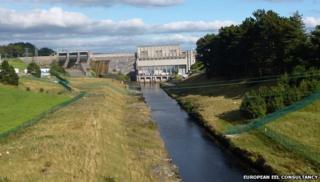 A decision on whether to prosecute the Irish state power company ESB over a major kill of endangered eels in County Donegal is still being considered, seven months after the incident.
It happened at a hydroelectric power station in Ballyshannon in April 2014.
More than 300,000 juvenile eels, called elvers, died when traps at the bottom of the dam at Cathleen's Falls became overwhelmed.
A scientist for ESB said the incident was "quite small".
He said otherwise it had been a good year for elver 'recruitment'.
Another eel expert said it was one of the largest fish kills ever recorded in Ireland and has called for changes to eel conservation policy.
Commercial eel fishing was banned on Lough Erne in 2009 as part of European wide efforts to reverse a dramatic decline in eel stocks.
Trap and transport
As part of an eel management programme, ESB operates a trap and transport scheme.
Eels are caught by former commercial fishermen, put into tanks, and driven around the hydroelectric powers stations between Belleek and Ballyshannon.
Since 2009, more than 130 tonnes of silver eels have avoided the power turbines in this way.
2014 has been a record year with almost 44 tonnes of eels trapped on Lough Erne, exceeding ESB's targets.
After being released downstream in Ballyshannon, the eels make their way thousands of miles across the Atlantic Ocean to the breeding grounds of the Sargasso Sea.
The life-cycle continues with the return of elvers to European waters. They are trapped below the dam and then driven upstream to be released back into Lough Erne.
'Overwhelmed'
In April 2014, hundreds of thousands of elvers died in the traps below the dam at Cathleen's Falls.
Despite reports that the traps had been left unchecked for several days over the Easter holiday weekend, ESB said they had become overwhelmed with a sudden run in one night.
ESB confirmed that 112 kg of elvers died. The total elver catch for the year was 533 kg, representing a loss of about 20%.
Dr Denis Doherty, a fisheries biologist employed by ESB, said the kill was proportionally "quite small" in terms of a good year of elver recruitment and he denied that it represented a missed opportunity to restock the Erne.
A former ESB scientist, Dr William O'Connor, who now runs the European Eel Consultancy based in Limerick said the elver run across Europe last year was the best since the 1980s and he accused ESB of being "caught off guard" by the dramatic turnaround in numbers returning to Irish rivers.
"This is a huge significant kill and a huge missed opportunity."
Dr O'Connor said a new approach is needed towards eel conservation that will also restore the traditional eel fishing industry.
"In Ireland we banned eel fishing and there hasn't been one single change in hydro electricity generation. There's been no compromise whatsoever," he said.
In a statement, Inland Fisheries Ireland said it is liaising with the Irish Department of Communications, Energy and Natural Resources (DCENR) and with the Department of Culture, Arts and Leisure in Northern Ireland.
It said: "Both DCENR and IFI are aware of the significance of the fish kill that occurred in the ESB power station at Cathleen Falls in Donegal.
"In view of the scale of the fish kill and in line with existing IFI policies, IFI referred the matter to its legal advisers.
"In view of the fact that the matter is under consideration as regards the possibility of legal proceedings/prosecution in relation to the fish kill, it would be inappropriate to comment further on the matter at this time."
In May 2013 there was another incident in which 5kg of dead elvers were discovered at the ESB facility in Ballyshannon.
An investigation established that the water supply to the trap had been accidently turned off and consequently protocols were put in place to ensure a continuous supply of running water to the trap.
In reply to written questions by TUV assembly member Jim Allister following the elver kill in April 2014, the DCAL minister Carál Ní Chuilín said she was "most concerned" and had requested Inland Fisheries Ireland to provide a full report on the incident.
The minister said the facts of the matter will be made public in due course.