May McFettridge anniversary: 25 years in pantomime in Belfast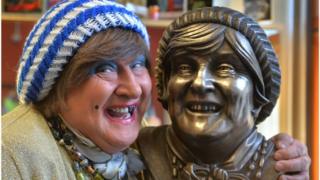 Northern Ireland's panto dame May McFettridge is celebrating 25 years starring in pantomimes in Belfast's Grand Opera House.
May has appeared alongside a range of stars including Jimmy Cricket, Su Pollard, Linda Nolan, Aston Merrygold, Britt Ekland and Lisa Riley.
To mark the anniversary, BBC News NI has put together an archive of posters from the pantomimes.
Four of the posters, from 1990, 1991, 1992 and 1995, are missing.
If you can help complete the collection please get in touch using the details at the bottom of the page.
UPDATE: We have now located all the posters. Thank you to those who got in touch and helped us find the missing ones.