Willie McBride: Armagh soldier's song continues to resonate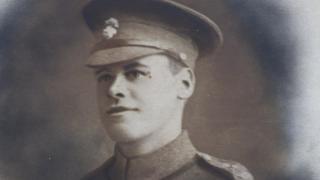 From the kitchen of Joe McBride's farmhouse, there is an uninterrupted view of Armagh's soft, rolling drumlins.
With rainclouds pushing relentlessly across them, the room is dark even though it is only early afternoon and it is comforting to feel the heat from the gently hissing stove.
We gaze at a table covered with papers and letters from the Great War.
They all relate to the service, and death, of Willie McBride, Joe's uncle - and the inspiration for a song known to millions.
The tune penned by Eric Bogle is actually called No Man's Land but is more commonly known as The Green Fields of France. Indeed, for many it is simply Willie McBride.
It tells of how the writer, resting by a grave, begins to think about the young soldier lying there, about his death and, ultimately, about the horror and futility of war.
It is an emotive tune, recorded over the years by dozens and sung by countless thousands.
It is, however, only recently that we have come to know of the real Willie McBride and to learn a little about his tragically short life.
County Armagh historian Trevor Geary has researched Willie's life and says there can be no doubt he is the young soldier of the song - despite one obvious discrepancy. In the song, "Young Willie McBride" is famously "only 19". Willie was, in fact, 21 at the time of his death.
"The song's writer, Eric Bogle, has admitted he used a bit of poetic licence with the age," Trevor said.
"Willie was 21, but so were the other William McBrides in Authuile [military cemetery near the Somme]. There was no Willie McBride aged 19 in Authuile."
He says Eric Bogle confirmed that the grave he sat on was that of Willie McBride of Roan.
Coincidence
Joe said the family had always been struck by the coincidence of the song featuring a Willie McBride, but it was only recently that he found out it was actually his uncle who had inspired it.
He said: "Really, he's representative of all the young men who lost their lives at that time; that's the way we look at it. He's always been part of this family. Although he was gone, he was always part of family."
Joe bears a striking family resemblance to the young man who, in an uncanny echo of the song, we see only in an "old photograph torn, battered and stained and faded to yellow in a brown leather frame".
Among the papers Joe holds are letters written to Willie by his mother. Tragically, some were to be returned unread, having reached the western front after he had been killed.
The letters deal with the rather mundane, the day-to-day business of life among the drumlins, a life that must have seemed so painfully far away for Willie as he fought and died in the trenches of the Somme.
Just across the fields from Joe's farm is Roan Cottage, Willie's family home.
It has been lovingly restored in recent years by its current owner, Tommy Wright, who bought it after the death of the last of Willie's three sisters who had lived there.
It was only when Tommy began that restoration work that he became aware of the cottage's place in history.
"When we bought it, we didn't even know it was a listed building," he said.
Renovation
"It was when we applied for planning permission for renovation that we found out that the heritage people were involved. And then it was from that we spoke to Joe McBride and he gave us some of the detail of how Willie was killed in the '14-'18 war and how he had lived here. And that was the first we knew of it."
Tommy has had minibus-loads of McBrides from as far away as Ohio and Ottawa come to visit the cottage.
"We had to finish it exactly to the heritage specification, which of course was what we wanted to do. And we're very happy with it.
"It's a very peaceful, quiet spot to live, a stark contrast with the violent end met by Willie."